Emergency Generator Hire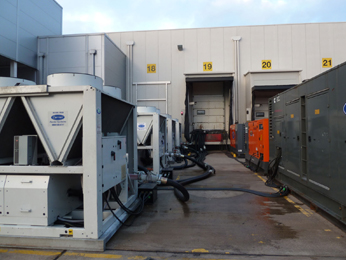 Emergency Response Generator Hire – Need to hire a Generator or Temporary Power System fast? Whatever the situation, Carrier Rental Systems will respond 24/7/365 days a year to any emergency power or temperature control requirement.
Many clients regard Carrier Rental Systems as the fourth emergency service, having come to rely on their local depot network to assist in times when mechanical breakdowns or adverse weather creates problems.
Our knowledgeable generator hire service team have a genuine desire to help out.
As the need for temporary power solutions becomes an increasing requirement across the UK, Carrier Rental Systems are in a position to quickly and effectively respond to our clients needs. Our fleet of specialist generators, 24/7 response and experienced staff ensures we can provide the right solution in what is often a difficult and often distressing situation.
Carrier Rental Systems has co-operated closely with Public Utilities, National Power Providers and National Construction Companies in alleviating Emergency Power situations.
Equipment/Services Supplied:
Generator Hire
Chiller Hire
Heating Hire
Dehumidification Hire
Boiler Hire
Air Conditioning Hire
Emergency Generator Hire
Carrier Rental Systems offers portable Air Conditioning and Heating Equipment available for immediate hire suitable for dealing with localised hot and cold spots for a wide variety of commercial applications, plus we also provide a full temperature control solution in the event of main equipment failure and spot cooling processes within industrial companies.
Carrier Rental Systems is ideally situated to provide heating and cooling solutions for server rooms, telecommunications rooms, offices, schools, waiting rooms and other public areas, receptions, showrooms, events and exhibitions, retail outlets, restaurants and kitchens, marquees, hospitals and medical centres to name but a few.
Our range of de-humidifiers rentals are ideal to dry out properties after a fire or flood. They are also used in the construction industry to dry concrete and plaster speeding up completion of major projects in a controlled manner. We also provide a versatile fan hire and rental service.
To summarise, whichever industry you are in, and whatever it is that you are heating, cooling, drying or moisture control requirements may be, whether on a temporary or permanent basis, Carrier Rental Systems will have a solution.
Our Service
Carrier Rental Systems provides portable air conditioning hire solutions to a wide variety of clients working across a diverse range of industry sectors. More specifically, Carrier Rental Systems provides temporary Portable Air-Conditioning Units, Chillers, Heaters, Evaporative Coolers, Dehumidifiers and a whole host of associated temperature and moisture control accessories to clients either on a temporary rental basis or permanently through our sales department.
These units are provided for rental and hire as well as for sale to facilities companies, building service companies and refrigeration companies as well as direct to end users, providing rapid cooling solutions to very demanding and temperature sensitive areas such as Server Rooms or Telecommunications Rooms. This has enabled Carrier Rental Systems to gain a huge amount of experience to ensure client's operations are maintained.